Berger Paints Bangladesh Limited
Berger Paints Bangladesh Limited, widely known as 'Berger Paints', is a leading paints manufacturer from Bangladesh. Berger incepted in 1760 in Germany. It has businesses in many countries; Bangladesh is one of its business hubs, promoting business by Berger Paints Bangladesh Ltd since independence of Bangladesh.
The company is a leader in the paint industry in Bangladesh. It manufactures Interior Paints Product, Exterior Paints, Wood and Metal Paints, Wood Coating, Illusions, Industrial Paints, Marine Paints, Adhesive Paints, Textile Paints and more. Some of its paint products arrive in market under the name of - BERGER Luxury Silk, BERGER Breathe Easy, BERGER Robbialac, BERGER WratherCoat AntiDirt LongLife, and BERGER Seaborne. Berger provides home decor service and express painting service.
The Headquarters of Berger Paints Bangladesh Ltd is situated at Berger House, Uttara Model Town, Dhaka, Bangladesh. It has two factories in Dhaka and Chattogram respectively in Nabinagar, Savar, Dhaka; and Kalurghat, Chittagong. The Company is enlisted in Dhaka Stock Exchange (DSE) and Chittagong Stock Exchange (CSE) in 2005.
Since 2004, Berger Paints Chairman is Mr. Gerald K Adams; and since 2008, the company's Managing Director is Ms. Rupali Chowdhury, the President of Foreign Investors' Chamber of Commerce & Industries (FICCI).
Contact Info: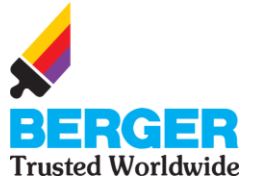 Berger House:
House # 8, Road # 2, Sector 3
Uttara Model Town, Dhaka-1230
Call (Toll Free): 08000-123456
Email: websupport@bergerbd.com
Website: www.bergerbd.com
Facebook Page: www.facebook.com/bergerbd/
Published Date: 10/10/2020
Related Sites: