Itihas Academy Dhaka was established in 2005 in Dhaka, Bangladesh as a not-for-profit and non-political secular organization which mainly aims to promote research activities on history, culture and heritage of diversified regions of the world as well as various disciplines of knowledge. Itihas Academy is a registered institution [Reg. No. S6898 (86/07)] in Bangladesh; have taken registration from The Register of Joint Stock Companies and Firms (RJSC) in 2007.
The organization possesses more than 830 members of whom 557 from Bangladesh and 273 are foreign members. Members are basically drawn from Teachers, Researchers, and Students. Itihas Academy is run by an Executive Committee headed by a Chairman who is currently Professor Dr. K M Mohsin, Vice-Chancellor of Dhaka International University (DIU).
Researchers and anyone who have keen interest in the field of history & tradition and any branch of science can becomes its member from the following two categories - Life Member and Donator Member. Every year in February, Ithihas Academy Dhaka organizes an international conference in Dhaka where only the respective institution's member can get the opportunity to present the paper/article.
Contact Info: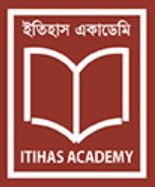 Temporary Office of Ithihas Academy:
5/7 Gojnavi Road, Mohammadpur, Dhaka, Bangladesh
E-mail: academyitihas@gmail.com
Mobile: +8801711466641, +8801817537388
Website: www.itihasacademybd.com
Facebook Page: www.facebook.com/ItihasAcademyDhaka
Published Date: 27/10/2020
Related Sites: