Established in 1987, NORTHERN TOSRIFA GROUP is a completely export-oriented business house mainly engaged in the business of RMG sector of Bangladesh. Northern Toshrifa is a garment manufacturer from Bangladesh consists of a few garments manufacturing wings. It exports knit apparels products mainly in Europe and broadly in all over the world. Northern Tosrifa Group is a member of Bangladesh Garment Manufactures & Exporters Association (BGMEA), Bangladesh Textile Mills Association (BTMA), and has affiliation with Export Promotion Bureau (EPB). The group also has investment in the financial and real estate sectors of Bangladesh. It has employed more than 4500 work forces in its different units.
Key people behind Northern Tosrifa Group: Tosrifa Khatoon (Chairman), and Mohim Hassan (Managing Director).
Wings of Northern Tosrifa Group:
• Northern Corporation Ltd.
• Fashion Asia Ltd.
• Tosrifa Industries Ltd.
• Printers and Printers Ltd.
• Enviro Pac Ltd.
• Hung Tak Northern Garments Ltd.
Contact Info: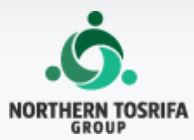 Corporate Head Office of Northern Toshrifa Group:
Holding No 4/2 A, Plot – 49 & 57 135 Gopalpur,
Munnu Nagar, Tongi, Gazipur, Bangladesh
Phone: 880-2-9817461, 880-2-9817462, 880-2-9817463
Fax: 880-2-9817743
E-mail: info@ntg.com.bd
Facebook Page: www.facebook.com/northerntosrifa
Published Date: 23/06/2015
Related Sites: