Social Development Foundation (SDF)
Since establishment in 2000, Social Development Foundation (SDF) has been working for disadvantaged communities and rural communities scattered across the Country, Bangladesh. SDF's main force given to abolish poverty through sustainable development and women empowerment; in this regard the organization working with Bangladesh Government as an autonomous body under the Financial Institutions Division (FID), Ministry of Finance (MoF).
Social Development Foundation (SDF) was born on November 27, 2000. It is a non-profit organization. SDF is registered under the Companies Act-1994 dated July 28, 2001. The organization promotes its activities in collaboration with World Bank. There are more than sixty lac people has been benefited by the SDF. Hence, the organization is marked as one of the most successful organizations in poverty alleviation in Bangladesh. Social Development Foundation immensely contributes the Government of Bangladesh in achieving the Millennium Development Goals (MDGs).
SDF promotes its activities focusing on following areas - Institution Building, Youth Employment, Governance and Accountability, Nutrition Awareness and Support, Livelihood Development, Communication, Capacity Building, Information and Communication Technology, and so on. And all these areas are solely touched with disadvantaged communities of Bangladesh.
To success its mission and vision SDF undertakes a number of projects namely -

* Social Investment Program Project (SIPP) from April 2003 to June 2011 which executed in following districts - Kurigram, Gaibandha, Jamalpur, Nilphamary, Rangpur, Sirajgonj and Dinajpur where amount spend US$ 28.55 million.
* Social Investment Program Project - II [SIPP II also known as "Notun Jibon" Project-II] from June 2011 to June 2015 total 16 districts - Barisal, Sylhet, Bagherhat, Barguna, Nilphamari, Kurigram, Gaibandha, Jamalpur, Pirojpur, Rangpur, Dinajpur, Sirajgonj, Patuakhali, Sherpur, Mymensingh, and Naogaon (a total of 3262 villages in 51 upazilas) covered by this project where budget spend US$ 115 million.
* Nuton Jibon Livelihood Improvement Project (SIPP-III) from July 2015 to June 2021; the project covers in a total 21 districts. The project covers major areas - Community Institutions ad Livelihood Development, Business Development and Institutional Strengthening, and Project Management, Monitoring and Learning.
Contact Info: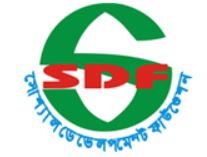 Social Development Foundation (SDF):
22/22, Khilji Road, Mohammadpur,
Dhaka - 1207, Bangladesh
Phone: +8802-58157625-28, +8802- 8100480,
Fax: 58157623
Email: info@sdfbd.org
Website: www.sdfbd.org
Facebook Page: www.facebook.com/sdfhqdhaka
Published Date: 15/08/2021
Related Sites: