Baatighar is one of the largest book houses in Bangladesh. The Book Library, Baatighar has a number of branches in Dhaka, Chattogram, Sylhet, and Rajshahi. It has the largest collection of books from diversified categories. Baatighar was founded by Mr. Dipankar Das born in Dhalghat, Patiya, Chattogram. In addition to physical book shop/bookstore; today Baatighar.com takes order online of books and delivers at reader's doorstop. Since 2009, Baatighar has emerged as a publishing house in Bangladesh. It has already published more than 350 books.
Baatighar started its journey on June 17, 2005 from a small shop at Cheragi Pahar Moor, Chattogram City. Day by day, the journey has been broadening; and aims to spread in every district of Bangladesh. Today, Baatighar Chattogram is located at Press Club Bhaban, Ground Floor, Jamal Khan Road, Chattogram, Bangladesh.
The book house opened its second branch in Dhaka in 2017. Baatighar Dhaka Branch is located at Bishwo Shahitto Kendro, Mymensing Road, Banglamotor, Dhaka. It is a registered book house in Dhaka having Trade License No.: TRAD/DSCC/224895/2019; and BIN No.: 000324047-0503.
Baatighar opened its branch in Sylhet in 2019 which is located at Golden City Complex, East Zindabazar, Sylhet.
Baatighar has opened its Rajshahi Branch on 24 June 2023 which is located at House 86, Khansamar Chok, Boalia, Rajshahi, Bangladesh. The Rajshahi branch was inaugurated by Professor Abdullah Abu Sayeed, the Founder and Chairman of Bishwa Sahitya Kendra.
Book readers can order for desired book(s) calling over following phone numbers:
Baatighar Dhaka: +880 1973304344;
Baatighar Chattogram: +880 1733067005;
Baatighar Sylhet: +880 1842304344;
Baatighar Shahbag: +880 1780234266;
Baatighar Bangla Bazar: +880 1707768959;
Baatighar Rajshahi : +880 1761304344
Contact Info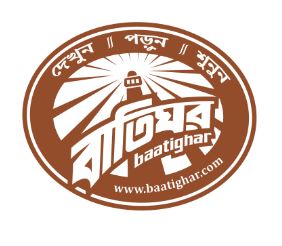 Baatighar (Dhaka Branch):
17 Mymensingh Road, Banglamotor,
Dhaka, Bangladesh
Phone: (+880) 1737-317841
Email: digital@baatighar.com
Baatighar (Chattogram Branch):
Press Club Bhaban, Ground Floor, Jamal Khan Road,
Chittagong, Bangladesh
Phone: 01733-067005
Email: baatighar.ctg@gmail.com
Baatighar (Sylhet Branch):
Golden City Complex,
East Zinda Bazar, Sylhet, Bangladesh
Phone: 01842-304344
Email: baatighar.syl@gmail.com
Baatighar (Rajshahi Branch):
House 86, Khansamar Chok, Boalia, (Behind Boalia Thana)
Rajshahi, Bangladesh
Phone: 01761-304344
Website: www.baatighar.com
Facebook Page: www.facebook.com/BaatigharOnline
Published Date: 26/07/2023
Related Sites: