AMY: Online Travel Agency
Bangladesh based online travel agency 'Amybd.com' also known as 'AMY' launched in 2016. At AMY, customers can book and confirm air ticket, hotels, tours, etc. at online platform. The Online Travel Agent (OTA) is recognized by a large number of Domestic and International airlines including US-Bangla, NOVOAIR, Regent, Biman Bangladesh, and more. Since inception, Amybd.com has been providing an Easy, Secure & Hassle Free real-time online air ticketing and travelling services for the customers. Amybd.com is owned by Be Fresh Limited, an IATA, ATAB and TOABM recognized travel agent and tour operator in Bangladesh. Besides direct website access, customers can avail Amy's all services through AMY Apps can be downloaded from App Store, and Google Play Store.
Contact Info: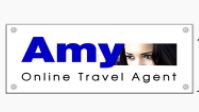 Dhaka Office of AMY:
Bashati Condominium, Flat - 9A, House -15, Road -17,
Kamal Ataturk Avenue, Banani,
Dhaka-1213, Bangladesh
Cell/Hotline Support: 096 7878 5656 Mobile: +88 017 0816 9900 (Whatsapp, Viber)
Chattogram Office of AMY:
C & F Tower (9th Floor), 1222 Sk. Mujib Road,
Agrabad, Chittagong.
Chattogram Office of AMY:
Golden Plaza (5th Floor), 1692 CDA Avenue,
Khulshi, Chittagong
Website: www.amybd.com
Facebook Page: www.facebook.com/amybefresh
Published Date: 12/08/2021
Related Sites: