BDTICKETS.COM makes easy to purchase Bus, Launch, and Air tickets online. It is a popular online ticketing or ticket booking platform in Bangladesh. Sitting at home or office, anyone can order/purchase tickets from the portal. Bdtickets launched in 2015 by the initiative of Robi Axiata Limited.
Besides Bus, Launch, and Air ticket booking; it offers launch, hotel, and movie services. And all of its services can enjoy by exploring the website and through Bdtickets App. Payment can be made through Mobile Banking (e.g. bKash, Rocket etc.), Cards (Credit Card, Debit Card etc.), and Internet Banking.
Presently, BDTICKETS.COM is one of the premium e-ticketing platform in Bangladesh which keeps 75000+ tickets per day; has 1,00,000+ customers; and covers 60+districts of the country. Mr. Rezwanul Haque Jami is the CEO of BDTickets.com.
Contact Info: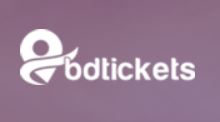 BDTICKETS.COM:
Biponi Bithan
63/64 Water Works Road, Chawkbazar,
Dhaka - 1211, Bangladesh
Customer Care Number/Call for Ticket Booking: 16460
Email: support@bdtickets.com
Website: www.bdtickets.com
Facebook Page: www.facebook.com/bdtickets
Published Date: 20/10/2020
Related Sites: