Ahmed Food Products (Pvt.) Ltd.
Ahmed Food Products (Pvt.) Ltd., mostly called Ahmed Food, is a miscellaneous food manufacturer from Dhaka, Bangladesh. Ahmed Food mostly manufactures food products under following categories - Jellies, Sugar Free Jelly, Jam, Squashes, Sauce, Pickles, Ready Mix, Spices, Paste, Snacks, Beverage, Bakery, and more. The Company's Head Office is located at Ahmed Food Bhaban, Road 07, Section 07, Mirpur, Dhaka; and Factory is located at Boro Rangamatia in Ashulia, Savar, Dhaka, Bangladesh.
Though Ahmed Food Products laid the first stone in 1960s, afterwards through several ups and downs; formally, since 1983 Ahmed Food Products Private Limited has set up its name in Bangladesh's food industry. And since then, it has been contributing in the food industry of Bangladesh. It is the first and only manufacturer of diabetic items as approved by BIRDEM (Diabetic Research Institute) and Institute of Public Health, Bangladesh. Ahmed has marked to produce sugar free diabetic food products. Ahmed Food Products (Pvt.) Ltd. is promoted by its CEO and Founder Mr. Mohammad Ahmed. Presently, Ahmed Food Products exported in different foreign countries like USA, UK, Australia, Italy and South Korea.
The company manufactures products following British Standard Specification (BSS), Bangladesh Standards and Testing Institution (BSTI), Good Manufacture Product (GMP), Good Hygiene Practices (GHP), and International Organization for Standardization (ISO) standards.
Contact Info: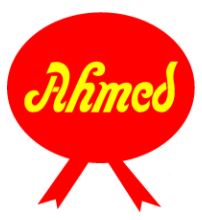 Ahmed Food Products (Pvt.) Ltd.:
Ahmed Food Bhaban,
M/4/4, Road # 07, Section # 07, Mirpur,
Dhaka - 1216, Bangladesh.
Phone: +880 1987 877 877
Email: ahmedfd@dhaka.net, info@ahmedfood.com
Website: www.ahmedfood.com
Facebook Page: www.facebook.com/ahmedfood
Published Date: 04/12/2020
Related Sites: