Bangabandhu Sheikh Mujib Medical University (BSMMU)
Bangabandhu Sheikh Mujib Medical University (BSMMU) is the most renowned premier public medical university in Bangladesh. The establishment of BSMMU has a historical background as; its first name was Institute of Postgraduate Medicine and Research (IPGMR) which was established in December 1965. In order to amplify the facilities for higher medical education and research in Bangladesh, the Government upgraded IPGMR as a Medical University in 1998.
There are seven faculties in the Bangabandhu Sheikh Mujib Medical University; Faculty of Medicine, Faculty of Surgery, Faculty of Basic Medical Science, Faculty of Dentistry, Faculty of Nursing, Faculty of Medical Technology, and Faculty of Preventive and Social Medicine. The university offers a number of doctoral degrees such as, Doctor of Medicine (MD), Doctor of Philosophy (PhD), Master of Science (MS), Master of Philosophy (MPhil), Master of Dental Surgery (MDS), MPH, MTM, FCPS Courses and so on.
The University offers standard level of education to all students. All of the departments are well-equipped with modern technology. Apart from Bangladeshi students, there are many foreign students are studying in the university. BSMMU has been playing the vital role in various disciplines of medicine, including education and research.
Bangabandhu Sheikh Mujib Medical University has three Pro-Vice Chancellor posts; Vice Chancellor the Senior most; Pro-Vice Chancellor posts are respectively Pro-Vice Chancellor (Research & Development) then Pro-Vice Chancellor (Administration) and then Pro-Vice Chancellor (Academic). Presently, BSMMU's Vice Chancellor is Professor Dr. Kamrul Hasan Khan.
Contact Info: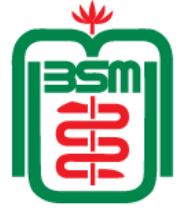 Bangabandhu Sheikh Mujib Medical University (BSMMU):
Shahbag, Dhaka-1000
E-Mail: Vice Chancellor: vc@bsmmu.edu.bd
Pro Vice Chancellor ( Research & Development): provc_rnd@bsmmu.edu.bd
Pro Vice Chancellor (Administration): provc_admin@bsmmu.edu.bd
Pro Vice Chancellor (Academic): provc_academic@bsmmu.edu.bd
Treasure: treasurer@bsmmu.edu.bd
Registrar: registrar@bsmmu.edu.bd
Information: info@bsmmu.edu.bd
Telephone:
Vice Chancellor: +88 02 9661065, +88 02 55165600
Treasurer: +88 02 9672066, +88 02 55165604
Registrar: +88 02 9661064, +88 02 55165609
Website: www.bsmmu.edu.bd
Published Date: 27/11/2013
Related Sites: