Bangladesh's one of the biggest online pharmacies, BanglaMeds, commits to deliver ordered medicine products within three (3) hours at customers doorstop in Dhaka City. BanglaMeds.com.bd is owned by BanglaMeds Pharmacy Limited, office is located at Rajuk Karmachari Commercial Complex, Sector-7, Uttara, Dhaka.
The online pharmacy launched on 16th December 2017. Besides selling of Over-the-counter (OTC) drugs, BanglaMeds.com.bd, online pharmacy, takes order from customers for medicines products through doctors prescribed prescription. Moreover, sitting at home, customers can order medicines products over the phone at hotline number +88-09638-120-130.
At Over The Counter (OTC), BanglaMeds delivers products from following categories - Health Care Accessories, Baby & Mom, Baby Diapers, Female Hygiene, Dental & Oral Care, Diabetic, Diabetic Accessories, Diabetic Care Kits, Multivitamin, Paper Napkins, Personal Care, Sanitary Napkin, Toilet Tissue, COVID-19, and more.
Contact Info: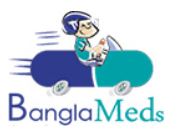 BanglaMeds:
Apartment: 1A, House: 12, Road: 10, Sec: 6, Uttara,
Dhaka, Bangladesh
Call: +880 9638 120 130 (10am to 10pm*)
Email: sales@banglameds.com.bd, support@banglameds.com.bd
Website: www.banglameds.com.bd
Facebook Page: www.facebook.com/BanglaMeds
Published Date: 12/08/2020
Related Sites: