Givensee Group of Industries
Givensee Group of Industries was founded in 1982 in Bangladesh. At present, the Group is a renowned 100% export oriented and one of the largest garments products manufacturers from Bangladesh. Chairman and Managing Director (MD) of Givensee Group is Mr. Khatib Abdul Zahid Mukul.
The Group mainly manufactures Knitwear, Sweater and Woven products. It has 22000+ workforces. With eight (8) diversified companies, seven in garments sector and one in food sector, the group has become a pioneer garment products manufacturers from the country. Givensee Group has more than thirty-one (31) year experience in garments sector. The group's yearly turnover is more than US$ 100.00 million.
Companies under Givensee Group of Industries:
• Givensee Spinning Mills Ltd.
• Hotapara Garments Ltd.
• Zahintex Industries Ltd.
• Masuma Khatun Textile Industries Ltd.
• Givensee Garments Ltd.
• Givensee Garments Accessories Ltd.
• Recycling Project
• Givensee Foods Ltd.
Contact Info: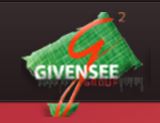 Givensee Group of Industry:
House # 06, Road # 13 Sector # 03, Uttara Model Town Uttara,
Dhaka, Bangladesh
Telephone: 8932813, 8913802 8961936
E-mail: info@givenseegroup.com
Website: www.givenseegroup.com
Published Date: 18/04/2016
Related Sites: