Sensiv Private Limited, mostly known as 'Sensiv', is one of the best diagnostic centers in Chittagong (officially Chattogram) located at the heart of Jamal Khan, Chattogram. Sensiv clinical diagnostic centre was founded in 1991. It is a recognized diagnostic centre in Chattogram which providing diagnostic laboratory services and doctors' consultation services since 1991. Renowned and expert doctors, from different areas of health, are regularly doing their chamber at Sensiv Pvt. Ltd. Sensiv Private Limited's Chief Executive Officer is Eng. Shadab Mahmud. Motto of Sensiv is "Diagnosis with sensitivity".
Sensiv Private Limited provides following diagnostic services: Digital X-Ray, C.T Scan, 4D Ultrasonography, Video Endoscopy, Video Colonoscopy, Echocardiography, Sigmoidoscopy, E.T.T, E.C.G, Pathology, Biochemistry, Microbiology, Hormone, Histopathology, Uroflowmetry, Holter Monitor, Spirometry, and more.
Contact Info: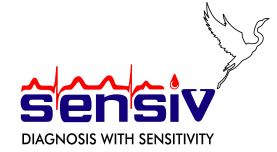 Sensiv Pvt. Ltd.
Opening Time:
(Saturday to Thursday: 7:00AM - 11:00PM)
(Friday: 7:00 AM- 9:00 PM)
14 Jamal Khan Road
(near Chittagong Independent University)
Chittagong-4217, Bangladesh
Phone: 031-616920, 031-615670, 031-615878
Mobile: 01711-761766
Email: sensiv.pvt.ltd@gmail.com
Website: www.sensiv.business.site
Sensiv Chittagong Doctors Serial Number: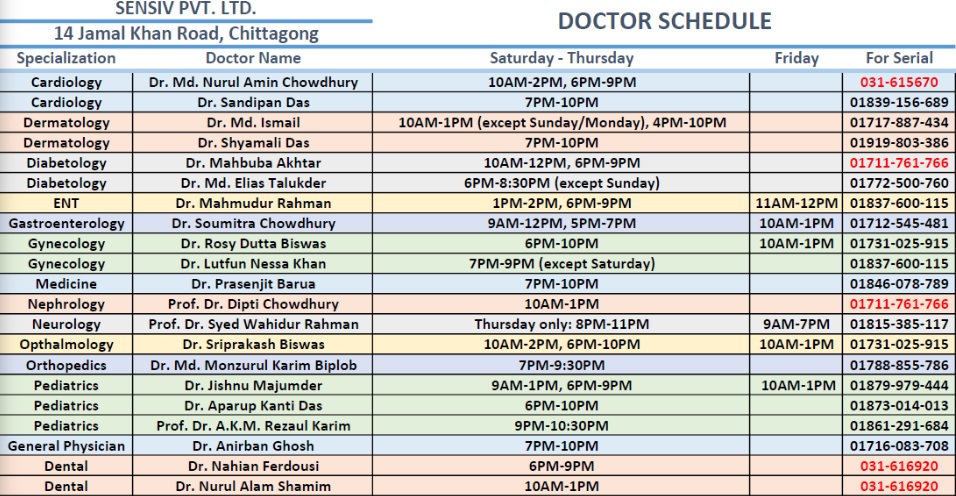 Click on Image...
Published Date: 17/04/2021
Related Sites: