Focallure Bangladesh offers cosmetics products in Bangladesh. Focallure is owned by Easy Dhaka (Easydhakabd.com, e-commerce site in Bangladesh). It stocks more than one lac cosmetics products from 112+ brands. Focallure BD offers Makeup, Skin Care, Hair Care, Body Care, Brush, Kit & Accessories, Korean Care, and Mom & Baby products. Focallure Bangladesh Limited boosts up cosmetics products through its website (www.focallurebd.com) and F-Commerce (Facebook Commerce) platform.
Presently, it has nine outlets located in different locations of Dhaka City such as - Bailey Road, Mirpur-1, Mirpur-12, Dhanmondi, Uttara, Bashundhara City, Badda, Banasree, and Pragati Sarani. The company is Authorized Distributor of Focallure, Authorized Agent of VERONNI, and Re-seller of PUDAIER.
Focallure Bangladesh is a member of e-Commerce Association of Bangladesh (e-CAB) (Member ID: 1200). Md Mehedi Zaman is the Chairman and CEO of Focallure Bangladesh Limited. Currently, it delivers products nationwide through courier company like SA Paribaharn, Sunderban, etc and accepts Mobile Payment (such as bKash, DBBL Nexus, etc), Credit or Debit Cards (such as VISA, MASTER, AMEX, etc), and Cash on Delivery.
Outlets of Focallure Bangladesh:
* Bailey Road, Dhaka
Location: Capital Siraj Centre, Shop 23, Ground Floor, Opposite to Swiss/Baily Star)
Phone: 01401139907
* Dhanmondi North, Dhaka
Location: Shimanto (Rifles) Square, Shop 229, 2nd Floor (Besides Baby Shop)
Phone: 01401139902
* Dhanmondi South, Dhaka
Location: Metro Shopping Mall Shop # 313, (3rd Floor), Mirpur Road, Dhanmondi, Dhaka
Phone: 01401139908
* Uttara, Dhaka
Location: Rajuk Commercial Market Shop 02, Ground Floor, Azampur, Sector-07, Dhaka
Phone: 01401139913
* Mirpur 1, Dhaka
Location: Bagdad Shopping Complex, Shop B&C, 2nd Floor (Besides Apex, Mukto Bangla Market)
Phone: 01401139914
* Mirpur 12, Dhaka
Location: Hazi Kujrat Ali Mollah Market, Shop 74, 3rd Floor, 12 Bus Stand, Mirpur 12, Dhaka
Phone: 01404048446
* Suvastu Nazar Valley, Dhaka
Location: Shop 1/29, 1st Floor Shahjadpur, Pragati Sarani, Dhaka
Phone: 01404048443
* Banasree, Dhaka
Location: DTBL Ideal Market Shop 7, Upper Floor, Road 2, Block D, (Ideal School Back Gate/Police Fari), Banasree, Dhaka
Phone: 01401139912
* Basundhara Shopping Complex, Dhaka
Location: Shop#56, Block#C, Level#1, Basundhara Shopping Complex, Dhaka
Phone: 01404048440
Contact Info: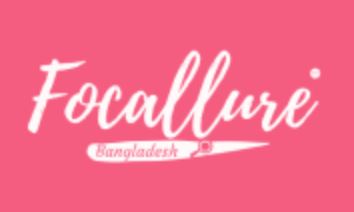 Focallure Bangladesh Limited:
2 Rajuk Commercial Complex, Uttara 7,
Dhaka-1230, Bangladesh
Call Centre: 09606102102
Email: info@focallure.com, mdmehedizaman@gmail.com
WhatsApp: +8801918391888
Website: www.focallurebd.com
Facebook Page: www.facebook.com/FocallureBangladeshOfficial
Published Date: 06/08/2023
Related Sites: