Seagull Hotel, Cox's Bazar
Seagull Hotel, also known as Hotel Seagull, Seagull Hotel Cox's Bazar, is a famous Five Star Hotel in Cox's Bazar, the city of the longest sea beach in the world. The Hotel was opened on December 6, 2002. Hotel Seagull (Cox's Bazar) has five star standard rooms (179 rooms), and suites ranging from deluxe to presidential suite. It has many rooms close to hill side and sea side and suites cope with the needs of all type of guest. Seagull Hotel also has two special Meeting Rooms and two Conference Halls where seminars, events, meetings, and banquets can be arranged.
Services & Amenities offered by Seagull Hotel (Cox's Bazar) :
Inside Hotel: Hairdresser, Fitness centre, Shopping Arcade, Hot Spa & Massage, Swimming pool, and Cyber Café.
In Rooms: Central air conditioning, Hot & cold water, Cable television, Comfortable working desk with table lamp, In room safe (suite only), High Speed Internet access, Doctor on call, Mini bar, and IDD Telephone.
On Premises: Bar, Car rental, Business Centre, Wi-Fi Internet Connection in all public areas, Conference and Banquet facility, Complimentary newspaper, Currency Exchange, Locker facility, Laundry service, Five specialty Restaurants, 24-hour room services, Free parking, Luggage Room, Airport transfer, Airline and bus Ticketing.
Contact Info: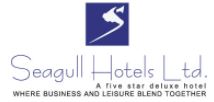 Cox's Bazar:
Hotel Motel Zone
Cox's Bazar Sea Beach,Cox's Bazar
Tel: +88 0341 62480 - 90
Cell: +88 01766666530, +88 01766666531
+88 01766666532,Fax: +88 0341 64436
Email: reservations@seagullhotelbd.com
Dhaka Office:
White House Hotel
155, Shanti Nagar, Dhaka 1217
Tel: +88 02 8322973 - 6
Cell: +88 01766666537, +88 01766666538
Fax: +88 02 8317726
Email: sales@seagullhotelbd.com
Sylhet Reservation Office:
Rose View Hotel, Plot# 2, Block# D,
Shahjalal Uposhohor, Sylhet - 3100
Cell: +88 01972787878, +88 01977200701
Website: www.seagullhotelbd.com
Published Date: 20/04/2014
Related Sites: