Bangladesh Mohila Samity (BMS)
Bangladesh Mohila Samity (BMS) was founded to elevate social acclamation of women in Bangladesh. This is a dominant voluntary organization working for women and children welfare. BMS involves in different voluntary activities such as - works for women empowerment; ensures health facilities; eradicates illiteracy; provides legal supports; supports in art and cultural activities; facilitates women entrepreneurship; and eliminates poverty from the Country.
Presently, Bangladesh Mohila Samity has 16 branches in different locations of Bangladesh. The Main Office is situated at Bangladesh Mohila Samity Complex Bhaban 4, New Baily Road, Dhaka. The motto of BMS is "A Better Tomorrow". BMS has affiliation with Associated Country Women of the World (ACWW) and International Alliance of Women (IAW).
BMS was a branch of ALL Pakistan Women Association (APWA) which was founded in 1949; after Independence in 1971, APWA Dhaka Branch newly emerged as Bangladesh Mohila Samity (BMS). Bangladesh Mohila Samity's Founder President was Dr. Neelima Ibrahim, and Founder General Secretary was Mrs. Ivy Rahman, wife of Mr. Zillur Rahman, the former President of Bangladesh, affiliated with Bangladesh Awami League. At present, Bangladesh Mohila Samity's President is Sitara Ahsanullah, and Joint Secretary is Tamanna Rahman.
Contact Info: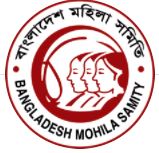 Bangladesh Mohila Samity (BMS):
Bangladesh Mohila Samity Complex Bhaban 4,
Natok Soroni (New Baily Road)
Dhaka-1000, Bangladesh
Phone: 02-58313378, 02-48315160, 01739732252
For Theater Information: +88-01715592649
For Legal Aid Information: 02- 48315160
Email: bmsdhaka4@yahoo.com
Website: www.bangladeshmohilasamity.com
Published Date: 08/12/2021
Related Sites: