Chattogram International Medical College and Hospital (CIMCH)
Chattogram International Medical College and Hospital (CIMCH) is a private medical college located at Shamserpara, Changaon, Chittagong (Officially called Chattogram). CIMCH was founded in 2013 by patronage of CIMCH Trust. CIMCH consists of a medical college and a 250-bed hospital. It offers one-stop medical services and promotes medical education in Chattogram region.
Following the Ministry of Health and Family Welfare, of GoB and Bangladesh Medical & Dental Council (BMDC) guidelines and curriculum; the Chattogram International Medical College (CIMC) offers 5 years Bachelor of Medicine, Bachelor of Surgery (MBBS) course. CIMC has affiliation with University of Chittagong, and Chittagong Medical University. The Principal of CIMC is Professor Md. Amir Hossen.
The CIMCH Trust also directs a Nursing College and Nursing Institute, known as CIMCH Nursing College and CIMCH Nursing Institute; offers BSc in Nursing (4-year), and Diploma in Nursing Science & Midwifery (3-year). CIMCH Nursing College & Institute's Principal is Rubi Dattha.
Presently, CIMCH consists of a three-storied building having floor space of 60,000 square feet. Currently, Professor Dr. Kazi Din Mohammed is the Chairman of Chattogram International Medical College Hospital (CIMCH).
Contact Info: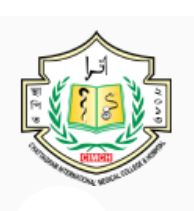 Chattogram International Medical College Hospital (CIMCH):
206/1, Haji Chand Mia Road, Shamser Para,
Chandgaon, Chittagong
Phone: +880-31 672062
Mobile: +880 1816557425, +880 1815953125
Mobile (CIMCH Nursing College & Institute): 01890078274, 01734466484, 01823231134
Email: info@cimch.edu.bd
Website: www.cimch.edu.bd
Published Date: 01/01/2022
Related Sites: