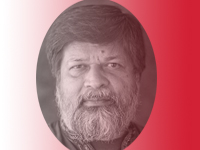 Shahidul Alam (Photographer, Bangladesh)
Shahidul Alam is a famous photographer, writer, media teacher, and curator born on 2nd June 1955 in Dhaka, Bangladesh. He had completed graduation in Biochemistry and Genetics from Liverpool University. Subsequently, he obtained PhD in Organic Chemistry from Bedford College, London University. Shahidul Alam started photography in 1980 in London. He won Harvey Harris Trophy from London Arts Council in 1983. Alam started working professionally in London at "Young Rascals" Studio in 1983.
A year later, Shahidul Alam returned to Bangladesh in 1984. In the same year he became the Secretary General of Bangladesh Photographic Society. Alam became President of Bangladesh Photographic Society in 1987. He joined international jury of World Press Photo in 1994. Shahidul Alam is the founder of Pathshala, South Asian Institute of Photography, and Drik Picture Library. He is also director of Chobi Mela, the largest festival of photography in Asia.
Shahidul Alam's many works have been shown in the world's renowned museums and galleries. In the course of his work, he has visited many countries including Australia, Belgium, Canada, China, Denmark, Egypt, Germany, India, Norway, Russia, South Africa, UAE, UK, USA and more.
Contact Info:
Drik Picture Library Ltd.
House 58, Road 15A (New),
Dhanmondi Residential Area,
Dhaka 1209, Bangladesh
Tel: +880-2-9120125, 8123412, 8112954
Fax: +880-2-9115044
Email: shahidul@drik.net
Skype: shahidul001
Roaming Cell: +447509111069
Website: www.shahidulalam.com
Published Date: 20/06/2018
Related Sites: