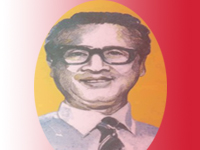 Tajuddin Ahmad was an influential Bangladeshi politician and the first Prime Minister of Bangladesh. He was born in July 23, 1925 at the village of Dardaria under Kapasia Thana of Gazipur District. In 1953, Tajuddin Ahmad obtained Bachelor of Arts degree on Economics from Dhaka University. Besides, he was also a lawyer, obtained a Law degree in 1964. Tajuddin Ahmed's wife was Syeda Zohra Khatun also known as Syeda Zohra Tajuddin. She was also a renowned politician and prominent leader of the Bangladesh Awami League party. They have three daughters and one son - Sharmin Ahmad (Reepi), Simeen Hussain (Rimi), Mahjabin Ahmad (Mimi) and Tanjim Ahmad Sohel mostly known as Sohel Taj.
Tajuddin Ahmad was one of the most influential figures during the time of Independence of Bangladesh. Tajuddin was exceedingly involved with the remarkable political party named, Awami League which was formed on 23 June, 1949. He was one of the founding organizers of Awami League, later became Bangladesh Awami League. Tajuddin Ahmed actively took part in the Language Movement of 1952. He was elected as Social Welfare and Cultural Secretary of Awami League in 1955. This remarkable politician extensively contributed in the Liberation War of Bangladesh.
After the independence in 1971, Tajuddin Ahmed served as Finance Minister of Bangladesh until 1974. This politician passed away in very pathetic way, after the assassination of Bangabandhu Sheikh Mujibur Rahman on 15 August 1975 by a group of deviated army officers; Tajuddin Ahmed was arrested on 22th August 1975. Later on, along with three other national leaders of Bangladesh, Tajuddin Ahmad was assassinated in Dhaka Central Jail by a group of army officers on 3 November 1975. The day (3rd November) is called as "Jail Killing Day" in Bangladesh. Tajuddin Ahmad remains as "Hero of Bangladesh" and an "Inspiration for Leaders of Tomorrow." Such great politician and leader is always crying need in Bangladesh.
Contact Info:
E-mail: tajuddinlives@gmail.com
Website: www.tajuddinahmad.com
Published Date: 13/01/2015
Related Sites: