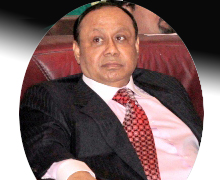 Ahmed Akbar Sobhan is a Bangladeshi famous business magnate, the Founder and Chairman of Bashundhara Group. Akbar Sobhan was born on 15th February 1952 in Islampur, a place in the old Dhaka, Bangladesh. He is the youngest son of Alhaj Abdus Sobhan. Mr. Sobhan completed his graduation from the University of Dhaka in Business Studies. He was also a great lawyer at Dhaka High Court, and Umme Kulsum.
Ahmed Akbar Sobhan started his first business career in 1978. But his business initiatives marked by the establishment of East West Property Development (Pvt) Ltd, founded in 1987, which is mostly known as "Bashundhara Housing". By the initiatives of this optimistic and visionary businessman, bit by bit, the business branches have been expanded in various sectors.
Today, Mr. Sobhan's founded "Bashundhara Group" is one of the largest and prominent industrial conglomerates in Bangladesh. The Group has more than 20 sister concerns. Akbar Sobhan also undertakes diverse social responsibilities. He has contribution in various socio-cultural and humanitarian activities.
For his outstanding contribution in the field of social, housing, real estate and industrial sector; Akbar Sobhan obtained many awards such as Kazi Nazrul Islam Award in 1992, Moulana Bhasani National Award in 1993, President's Gold Medal in 1994, Arthakantha Business Award in 2001, USA Summit International Award in 2002, Bangladesh Cultural Foundation Award in 2009 and more.
Contact Info:
Website: www.ahmedakbarsobhan.net
Facebook Page: of Ahmed Akbar Sobhan
Twitter Page: of Ahmed Akbar Sobhan
Published Date: 13/06/2018
Related Sites: