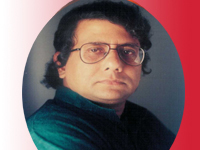 Tanvir Mokammel is a Bangladeshi legendary filmmaker, author and teacher. He was born on March 8, 1955 in Khulna, Bangladesh. Tanvir Mokammel received his M.A. degree in English Literature from the University of Dhaka in 1979. He has made six full-length feature films and fourteen well-known documentaries; among them some of his works have received a number of national and international awards. At current, Mr. Tanvir Mokammel is the director of "Bangladesh Film Institute" and "Bangladesh Film Centre".
Tanvir Mokammel's well-known films are: A Tree Without Roots (Lalsalu), Quite Flows the River Chitra, The River Named Modhumoti, The Sister, Lalon, Wanted, and Jibondhuli (The Drummer).
His most famous documentaries are: The Unknown Bard, Teardrops of Karnaphuli, Riders to the Sunderbans, A Tale of the Jamuna River, The Garment Girls of Bangladesh, Tajuddin Ahmad : An Unsung Hero, The Promised Land, Images and Impressions, The Japanese Wife, and 1971.
Tanvir Mokammel's well-known books are: A Brief History of World Cinema, The Art of Cinema, Charlie Chaplin: Conquests of the Vagabond, Syed Waliullah, Sisyphus and Quest of Tradition in Novel, The Lower Depth, Grundtvig and Folk Education etc.
He was President of Bangladesh Short Film Forum for the year of 1985-1987 and 1995-1997. In addition, Mr. Tanvir Mokammel was also Jury Member in the "15th Rabat International Film Festival".
Contact Info:
Kino-Eye Films,
Flat-5C1, House-15, Road-10,
Dhanmondi R/A, Dhaka-1205,
Bangladesh,
Tele: +880-2-8127638
Website: www.tanvirmokammel.com
Published Date: 26/07/2014
Related Sites: