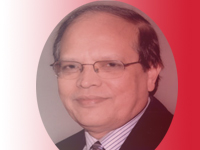 Dr. Atiur Rahman is a Bangladeshi famous economist. He was Governor of Bangladesh Bank, the central bank of the country. Atiur Rahman was born in 1951 at a village of Jamalpur district in Dhaka Division of Bangladesh.
Dr. Atiur Rahman completed his graduation from Dhaka University on the subject of Economics. After being completed graduation, he obtained the Commonwealth Scholarship, one of the prestigious scholarships given from United Kingdom (UK). Later on, Mr. Rahman went to the School of Oriental and African Studies (SOAS), University of London to obtain his Ph.D. in 1977. His Ph.D. thesis was published by the Oxford University Press as a book titled as "Peasants and Classes."
Before appointing as a Governor of Bangladesh Bank, Dr. Atiur Rahman served in the University of Dhaka as a Professor of Economics (2006-2009) in the Department of Development Studies. By turns, he was the Director of Sonali Bank, Chairman of the Board of Directors of Janata Bank, and a Senior Researcher at the Bangladesh Institute of Development Studies (BIDS).
For his oustanding contribution in various fields, mainly in poverty alleviation and development of the banking and finance, Atiur Rahman had obtained lots national and international awards, including Atish Dipankar Gold Medal in 2000, Chandrabati Gold Medal in 2008, Indira Gandhi Gold Plaque in 2011, World No Tobacco Day Award in 2012, and Nawab Bahadur Syed Nawab Ali Chowdhury National Award in 2012.
Contact Info:
Website: www.atiurrahman.org
Published Date: 20/06/2018
Related Sites: