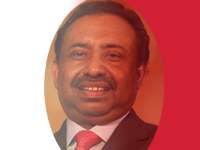 Bajloor Rashid MBE is a Bangladeshi-born famous British businessman, philanthropist, and dedicated social worker. He was born on 28 May 1962 at Balikandi in Maulvi Bazar, a district of Sylhet Division of Bangladesh. Bajloor Rashid came in United Kingdom (UK) in 1978 to obtain higher education. Soon after, Mr Rashid started his business career by opening a number of restaurants in Kent and London. From that time he did not stop, his unceasing effort makes him a great entrepreneur in the curry industry. Over the last thirty years, Mr Rashid's determined entrepreneurial sense helps him to be an icon for many restaurants and businesses.
He was the former president of the Bangladesh Caterers Association (2006-2012), the largest association of curry restaurant owners in the UK. In 2012, Bajloor Rashid was awarded the Member of the Most Excellent Order of the British Empire (MBE), one of the most prestigious statuses given by the British Government, for his outstanding contributions in the British Bangladeshi catering Industry. Moreover, Bajloor Rashid MBE was awarded the first position in the category of Community Personality in BB (British Bangladeshi) Power 100 Awards 2013.
Bajloor Rashid MBE is also one of the most senior directors of the British Bangladesh Chamber of Commerce (BBCC). He has lots of contributions in different fields in home and abroad. Mr. Rashid has closely worked with the UK Government, Member of Parliament (MP), UK Border Agency (UKBA), MAC and the Police. On 1 September 2013, he was elected as the Chairman of Progressive Life Insurance Company Limited. Apart from all these, He is also a member of various renowned business and community organizations. Currently, Mr Rashid is permanently living at Ashford in Kent with four children and wife named Kaniz Fathema.
Contact Info:
Email: Bajloor@aol.com
Phone: 01233 336701
Website: www.bajloorrashid.com
Published Date: 13/06/2018
Related Sites: