Civil Aviation Authority, Bangladesh (CAAB)
Civil Aviation Authority, Bangladesh (CAAB) is, a Government Organization, looking after all the aviation related issues in Bangladesh. Though aviation activities commenced, after the Independence of Bangladesh, in December 1971 under the Ministry of Defence; it got a formal shape by the creation of CAAB. CAAB was formed in 1980 by the Government of Bangladesh according to the Civil Aviation Authority Ordinance, 1985. Currently, the Organization is running under the Ministry of Civil Aviation & Tourism, Government of the People's Republic of Bangladesh. The Headquarter of CAAB is situated at Kurmitola in Dhaka. It puts into effect the rules, regulations and instructions of the Government and also carries out the standards and recommendations of ICAO. The Organization is developing aviation infrastructure and air transportation network of the country.
CAAB is the prime organization to regulate all aviation related activities in Bangladesh. It provides all airfields and other related facilities. At present, fifteen (15) airports – 3 international and 12 domestic – are governed by CAAB. In addition, the Organization is operating thirty-eight (38) airlines in and out of Bangladesh. Civil Aviation Authority Bangladesh signed 'Bilateral air transport agreement' – an agreement where 43 states signed to permit international commercial air transport services. CAAB is a member of International Civil Aviation Organization (ICAO).
Contact Info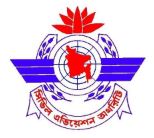 Headquarter of Civil Aviation Authority Bangladesh (CAAB) :
Kurmitola, Dhaka-1229, Bangladesh
Phone: +880 2 7911041-3
Fax: +880 2 8901411
E-mail: caab@bracnet.net
AFTN: VGHQYAYX
Website: www.caab.portal.gov.bd
Published Date: 16/01/2015
Related Sites: