Opsonin Pharma Limited (OPL), also known as Opsonin, is one of the largest pharmaceutical companies of Bangladesh. Opsonin Pharma was founded by Late Abdul Khaleque Khan in 1956. The company is manufacturing and marketing high quality healthcare products for both national & international market. Opsonin is now one of the pioneer pharmaceutical manufacturers in Bangladesh.
Since 1985, the company has been exporting its various products to different countries of the world including Philippines, Mauritius, Myanmar, Togo, Vietnam, Nepal, Pakistan, Sri Lanka and Yemen. Opsonin Pharma achieved ISO 9001 certification in the year 2000. It was formerly known as 'Opsonin Chemical Industires Ltd.' which changed to 'Opsonin Pharma Ltd.' in 2005.
The company has employed more than 2,100 pharmacists, medical professionals, microbiologists, chemists, biochemists, IT professionals, engineers, chartered accountants, and other graduates in its various departments. Opsonin has a trained sales team comprising of 425 persons.
Contact Info: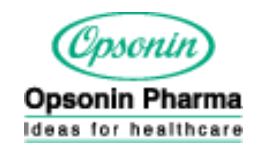 Opsonin Pharma Limited:
Opsonin Bhaban, 30, New Eskaton Road, Dhaka, Bangladesh
Phone: +88029332262, 9356451, 9356533, 9357023
Fax: +88 02 8311905
Website: www.opsonin.com
Published Date: 24/11/2014
Related Sites: