United News of Bangladesh (UNB)
United News of Bangladesh (UNB) is the most renowned and credible news agency in the private sector of Bangladesh. UNB started its journey in 1988. Since its inception, United News of Bangladesh supplies news, features and news photos to its subscribers at home and abroad. Its news, features and photos are mainly related to national and international issues & events including politics, business, finance, culture, science, technology, sports etc. This News Agency has daily about 20 million readers, listeners and onlookers in Bangladesh. In Bangladesh, a number of electronic and print media (including various newspapers, government offices, BTV, Radio Bangladesh etc.) are subscribers of UNB. Moreover, it also distributes its news, features and photos in different cities of the world including Dubai, London, New York and more.
United News of Bangladesh (UNB) has news exchange agreements with UNI (India), Xinhua (China), Kyodo (Japan), ANSA (Italy) STT-FNB (Finland) and Rompress (Romania). It is a member of various international associations of news agencies as OANA (Organization of Asian and Pacific News Agencies), CPU (Commonwealth Press Union), AMIC (Asian Mass Communication Research and Information Centre) and AsiaNet.
Contact Info: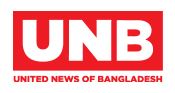 United News of Bangladesh (UNB)
Cosmos Centre 69/1, New Circular Road, Malibagh,
Dhaka - 1217, Bangladesh
Phone: 9345543, 9345541
Website: www.unbnews.org
Published Date: 26/02/2014
Related Sites: