Bangladesh NGOs Network for Radio and Communications (BNNRC)
Bangladesh NGOs Network for Radio and Communications (BNNRC) is a National Networking Body working for the development of Community Media in Bangladesh. BNNRC is committed for promoting access to the community media for rural people in Bangladesh. BNNRC has been working for Building a Democratic Society in Bangladesh on the basis of free flow of information, equitable & affordable access to ICT (Information & Communication Technology) for remote & marginalized population. Bangladesh NGOs Network for Radio and Communications is supported by the contributions of different development organizations in the world that are committed in building a free, independent and pluralistic community media in Bangladesh.
BNNRC registered with NGO Affairs Bureau (NGOAB) and Ministry of Law, Justice and Parliamentary Affairs of Government of the People's Republic of Bangladesh as an Information and Communication Technology for Development (ICT4D) Network and founded in 2000 as per Article 19 Charter of Universal Declaration of Human Rights. BNNRC is directed by board of trust consist of nine trustees from the eminent rural development & community media practitioners in different areas of Bangladesh. Since its establishment, it has been struggling to open up the community media in Bangladesh mainly for rural people. The vision of BNNRC is "BNNRC does like to see the rural people has the easy, quick and low cost access to global communication so that they are enrich and updated by knowledge."
According to the website of BNNRC, the Objectives of Bangladesh NGOs Network for Radio and Communication are to:
- increase recognition of community radio and open-up community television and community film as an important delivery agent for local aspirations on increasing volunteering, education and employment opportunities;
- improving local accountability and democracy;
- reducing the digital divide through providing access to ICT and media production skills; and
- support and to increase the ability of the sector to respond to the needs of rural disadvantage communities.
Contact Info: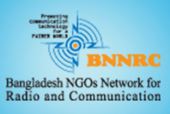 House No: 13/3, Road: 02 Shaymoli,
Dhaka-1207, Bangladesh
E- Mail: bnnrcbd@gmail.com, ceo@bnnrc.net
Phone: +88 02 9130750, +88 02 9101479, +88 02 9138501, +88-01711-881647
Fax: +88 02 9138501
Website: www.bnnrc.net
Published Date: 03/01/2014
Related Sites: