Cotton Development Board (CDB)
Cotton Development Board (CDB) is a government organization under the Ministry of Agriculture, Bangladesh. The Central Office of Cotton Development Board is situated at Khamarbari, Dhaka, Bangladesh. Since establishment, CDB has been contributing to promote cotton production in Bangladesh. It conducts research activities on the field of cotton for its protection and extension. Presently, Dr. Alhaz Uddin Ahammed is the Executive Director (ED) of Cotton Development Board, Bangladesh.
So far CDB has released eight varieties of cottons namely - SI/91/646, SA/CB-1/99, JA/CB-5/99, CB-1, CB-3, CB-5, CB-7, and AVA. Earlier, Cotton Development Board was a part of Bangladesh Agricultural Research Institute (BARI) which was separated from BARI in 1991. CDB set a target of producing 2 million/20 lac bales of cotton by 2041 in Bangladesh.
Cotton Development Board (CDB) five research stations namely - Cotton Research, Training and Seed Multiplication Farm in Sreepur, Gazipur; in Sadarpur, Dinajpur; in Jagadishpur, Jessore; Cotton Research Station in Mahigonj, Rangpur; Hill Cotton Research Station in Balaghata, Bandarban. And three sub- research stations namely Hill Cotton Research Sub-station in Raicha, Bandarban; in Kaokhali, Rangamati; and in Matiranga, Khagrachari.
Contact Info: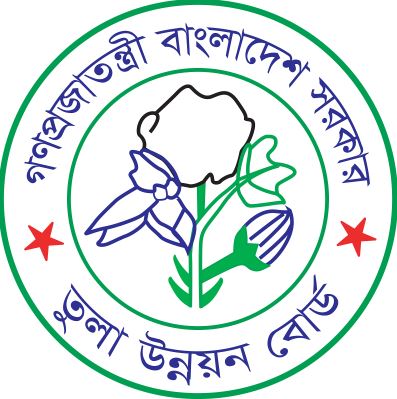 Cotton Development Board (CDB):
Khamarbari, Dhaka-1215, Bangladesh
E-mail (Executive Director): ed@cdb.gov.bd
E-mail (Additional Director): ak.zaman@yahoo.ca
Phone (Office): 0255028355
Mobile: 01716817700
Website: www.cdb.portal.gov.bd
Published Date: 18/09/2021
Related Sites: