Ahsan Group is a 100% export-oriented garment manufacturer from Dhaka, Bangladesh. Ahsan Group Of Companies was established in 1988. It is accredited as a knit composite/textile group. The Group started its business in garments sector with a woven factory "The Rose Garments". Ahsan Group of Bangladesh is producing garments items for Mens, Womens, and Kids. It is exporting different kinds of woven, knit and sweater products to its foreign buyers in USA, EU, and Canada. Ahsan is a 100% Compliance group with all its factories certified by Wrap, BSCI, FWF, Wallmart, GOTS, OEKOTEX, etc. It has successfully achieved International Certification for Production, Quality and Labour Employment such as follows: BSCI, WRAP, Oeko-Tex 100, and OEBL & OE 100. The motto of Ahsan Group is "In Touch With Tomorrow".
Concerns of AHSAN GROUP:
• Ahsan Composite Ltd.
• Ahsan Apparels Ltd.
• Ahsan Knitting Ltd.
• A. K. Fashions Ltd.
Contact Info: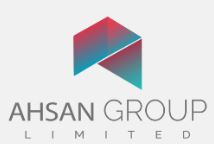 Ahsan Group of Companies:
Concord Tower, Suite-503 (5th Floor), 113 Kazi Nazrul Islam Avenue,
Dhaka-1000, Bangladesh
Tel: +88-02-9352064, 8319059, 7693323, 7693415, 7693548,
Fax: +88-02-9348808
E-mail: info@ahsangroup.com
Website: www.ahsangroup.com
Published Date: 01/06/2015
Related Sites: