Founded in 1997, ASROTEX Group is an internationally reputed business group in Bangladesh manufacturing different kinds of high quality knitted garments for Ladies, Mens, and Children such as Long & Short Sleeve T-Shirts, Sweat Shirts, Fancy Look T-Shirts, Polo Shirts, Baby Dresses, Hooded Jackets, Tank Tops, Trousers, Baby Suits, Skirts, Pants, Pajama, Shorts, Night wear, Tops, etc. It also manufactures a wide range of international standard yarn products like Carded, Compacted, Combed, Bamboo Cotton, Pima Cotton, 100% Polyester, Z-Twist, Slub Yarn and more.
ASROTEX GROUP has following Business Units:
* Ruma Industries (1995)
* Fariha Knit Tex Ltd. (1996)
* Asrotex (1997)
* Rimshad Tex Ltd. (2004)
* Astrotex Ltd. (2005)
* Fiber 2 Fashion BD Ltd. (2006)
* Ruma Holdings Ltd. (2009)
* Fariha Dyechem LTd. (2008)
* Vaneety Fashion Ltd., and
* Exclusive Printers Fashion Ltd.
Contact Info: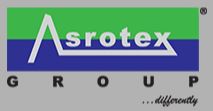 Head Office of ASROTEX Group:
House # 345, Road # 25 New D.O.H.S.,
Mohakhali, Dhaka - 206
Telephone: + 880-2-8815915, 9891182, 8753512, 9850833, 8835670, 8835671
Fax: + 880-2-8813542
E-mail: info@asrotex.com, asad@asrotex.com
Website: www.asrotexgroup.com
Published Date: 01/05/2014
Related Sites: