Chittagong Port Authority (CPA)
Chittagong Port Authority (CPA) is an agency of Bangladesh Government working as an administrative body of Chittagong Port (also known as Chattogram Port/Port of Chittagong), principal port of Bangladesh. Since 4th century BC, the Chittagong Port has been operating its function. Apparently, the Port was established in 1887 during the time of British Empire in Indian Subcontinent. Its previous name was Chittagong Port Trust. However, after the independent of Bangladesh the name was changed to Chittagong Port Authority (CPA) and newly established through the proclamation of The Chittagong Port Authority Ordinance 1976. At present, CPA has been working under the Ministry of Shipping of the Government of the People's Republic of Bangladesh. The CPA is now embodied with a Chairman & Four Members (Engineering, Harbor & Marine, Finance, and Administration & Planning).
According to CPA website, the key functions of the Chittagong Port Authority are: to manage, maintain, improve and develop the port; provide and maintain adequate and efficient port services and facilities in the Port or the approaches to the Port; regulate and control berthing and movement of vessels and navigation within the Port; do such acts and things as may be necessary or convenient to be done in connection with, or incidental or conductive to, the performance of its functions under this Ordinance.
Contact Info: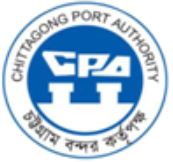 Chittagong Port Authority (CPA):
Bandar Bhaban, P. O. Box 2013
Chittagong-4100, Bangladesh
E-mail: info@cpa.gov.bd
Telephone: +880-31- 2522200-29 (PABX)
Fax: +880-31- 2510889
Website: www.cpa.gov.bd
Published Date: 06/12/2013
Related Sites: