Bangladesh Accreditation Board (BAB)
Bangladesh Accreditation Board (BAB) came into existence in 2006 as a government organization providing accreditation of testing & calibration and medical laboratories in accordance with international standards like International Organization for Standardization (ISO), International Electrotechnical Commission (IEC) and other relevant organizations & institutions.
BAB is the national authority providing accreditation in Bangladesh. It elevates the recognition and acceptance of products and services in domestic and international markets. The Board seeks to uplift the quality assurance infrastructure and conformity assessment procedures in the country.
Bangladesh Accreditation Board is a member of the Asia Pacific Laboratory Accreditation Cooperation (APLAC) since 2007. BAB also obtained membership from International Laboratory Accreditation Cooperation (ILAC) in 2010, Pacific Accreditation Cooperation (PAC) in 2011, and International Accreditation Forum (IAF).
Contact Info: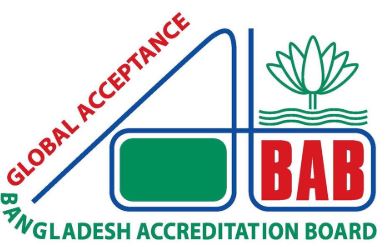 Bangladesh Accreditation Board:
Ministry of Industries (4th Floor)
91, Motijheel C/A,
Dhaka-1000, Bangladesh
Tel: 00880 2 9513221
Fax: 00880 2 9513222
Email: info@bab.org.bd
Website: www.bab.org.bd
Published Date: 20/10/2014
Related Sites: