Chittagong Collegiate School and College
Chittagong Collegiate School and College is one of the oldest and most prestigious government educational institutions in Bangladesh. Chattogram Collegiate School was established in 1836. It is located at Ice Factory Road in North Nalapara, Chittagong, Bangladesh. The school was the first English medium high school in the Port City Chittagong. It provides education from level five to twelve/primary to higher secondary level.
In 2008, the Institution was renamed as Chittagong Collegiate School and College by the Government of Bangladesh. Because of its outstanding performances, Chittagong Collegiate School achieved the country's Best School Award in 1992.
Since its inception to till now, the Institution has been produced a number of notable figures like - Dr. Muhammad Yunus, scientist Dr. Jamal Nazrul Islam, actor Abul Hayat, politician Engineer Mosharraf Hossain, cricketer Minhajul Abedin Nannu, poet Nabinchandra Sen, scientist Abdullah Al Moti Sarfuddin, and more.
Contact Info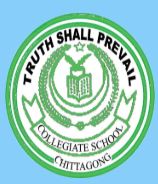 Chittagong Collegiate School and College:
Ice Factory Road, North Nalapara
Chittagong, Bangladesh-4200
Phone: +88-031-2863055
Published Date: 03/01/2015
Related Sites: