Chittagong Grammar School (CGS)
Chittagong Grammar School (CGS) is one of the most renowned international English-medium schools in Chittagong, Bangladesh. CGS was founded in 1992 by the four Chittagonian families, namely Dadas, Ispahanis, Khans and Nizams, to fulfill international standard education in the Port City Chattogram. The School started its academic journey in the end of October & beginning of November 1992, and classes came into being in January 12, 1993. During the time of its commencement there were only five classes (5 to 9), 64 students and 14 teachers. In 1996, the ranges of classes were expanded from Playgroup to 'O' Levels. Chittagong Grammar School opened the school session in September 1996. In January 1999, CGS students obtained 100% 'A's and 'B's, of which 79% are 'A's and 21% 'B's, perhaps the best results in the country! Moreover, the pass rate is also increased from 98% to 100%. In 1994 Chittagong Grammar School introduced training programme for the teachers to make them expert so that teaching and learning standard will be at excellent level. CGS has an associate branch at Gulshan in Dhaka named as Chittagong Grammar School-Dhaka (CGS-D).
The school always maintains standard discipline and excellent environment for the students. As a result, the students will be academically, morally, physically, and socially at the highest level of excellence. CGS' students have been admitted to world's renowned universities including Cambridge, Harvard, and Oxford. Thus, the school has been rapidly gained a superb reputation within the community.
CGS is an associate member of Round Square Organization, a worldwide association of schools. It is also listed as an international school in the International Student Services (ISS). Besides, the school is chosen as the venue for Cambridge 'O' and 'A' Level examinations. In addition to these, CGS has become a centre for the US College board examinations, SAT I & SAT II.
According to CGS website, the aims of Chittagong Grammar School (CGS) are to:
- Establish good working habits amongst the students, so that they become self-reliant.
- Provide opportunities, training and resources for students to research on their own.
- Monitor student progress by means of regular assessments.
- Provide extra-curricular activities to produce well-rounded students.
- Provide laboratory and I.T. facilities for all students.
- Instill in students good morals and ethics to grow up as good human beings.
Contact Info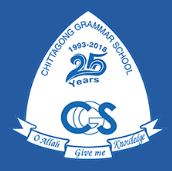 Chittagong Grammar School (CGS):
Surson Valley, 448 / B Joy Nagar, Chatteswari Road,
Chittagong, Bangladesh.
For Lower School:
Tel: 88-031-632900.
Email: cgslower@hotmail.com
For Middle School:
Tel: 88-031-2861078.
Email: cgsmiddle@gmail.com
For Upper School:
Tel: 88-031-622472.
Fax: 88-031-632001.
Email: cgs.upper@gmail.com
Website: www.cgs.com.bd
Facebook Page: www.facebook.com/CGS1992
Published Date: 04/08/2014
Related Sites: