The Art Summit of Dhaka is the largest non-commercial research and exhibition platform in the world from South Asian art; has already completed two successful editions in the year 2012 and 2014 in Dhaka.
The Dhaka Art Summit 2016 is produced by Samdani Art Foundation in association with Bangladesh Shilpakala Academy. Its Third Edition scheduled to be held from Feb 5-8, 2016. No tickets or pass required; all the artists, curators, museums, scholars, art-enthusiasts and visitors are welcomed from Home and the world.
The Art Summit is an initiative of Nadia Samdani, the Co-Founder & President of the Samdani Art Foundation who is also the Director of the Dhaka Art Summit. Under her leadership, the Art Summit has already completed its two successful editions in 2012 and 2014.
The following artists has selected for the Samdani Art Award 2016: Ashit Mitra, Atish Saha, Farzana Ahmed Urmi, Gazi Nafis Ahmed, Palash Bhattacharjee, Rafiqul Shuvo, Rasel Chowdhury, Rupam Roy, Salma Abedin Prithi, Samsul Alam Helal, Shimul Saha, Shumon Ahmed, and Zihan Karim.
Contact Info: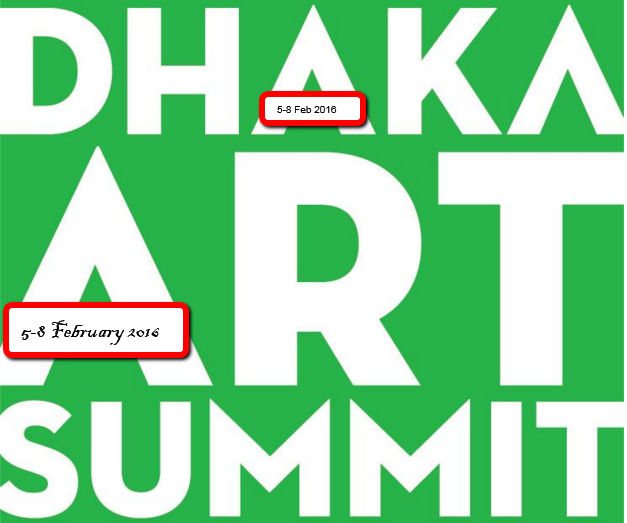 Dhaka Art Summit:
Shanta Western Tower
Level 5, # 501 & 502
186, Gulshan - Tejgaon Link Road, Tejgaon I/A,
Dhaka 1208, Bangladesh
Tel: (+88) 0288 78784
Fax: (+88) 0288 78204
E-mail for general enquiries: info@dhakaartsummit.org
E-mail for VIP related questions: vip@dhakaartsummit.org
E-mail for press vontact: press@dhakaartsummit.org
Website: www.dhakaartsummit.org
Facebook Page: www.facebook.com/DhakaArtSummit
Published Date: 19/12/2015
Related Sites: