Samdani Art Foundation was founded by the collector couple Nadia Samdani & Rajeeb Samdani in 2011 as a not-for-profit organization with a view to promoting Bangladeshi contemporary art in the international arena. Since its inception, Samdani Art Foundation has been working to create awareness about Bangladeshi art internationally and provide a platform for the Bangladeshi young and mastermind artists by supporting them in various ways.
The Art Foundation organizes various art events throughout the whole year. Its most remarkable events are Dhaka Art Summit & Samdani Art Award. The Founder and Director of Dhaka Art Summit is Nadia Samdani.
The Dhaka Art Summit is the first and only Art Festival, organizes collaboration with Bangladesh Shilpakala Academy and Bangladesh National Museum, held Bi-Annually in Dhaka where artists & art enthusiasts participates from different countries. The first edition of Dhaka Art Summit was held from 12-15 April 2012. Subsequently, its 2nd edition held from February 7-9 2014.
Samdani Art Award is the most prestigious art award in Bangladesh given to the talented artists of Bangladesh whose age range of 20-40. The award is giving mainly to support, promote and show up the contemporary artists of Bangladesh. Samdani Art Award 2012 goes to Khaled Hasan and Musrat Reazi.
Contact Info: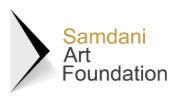 Samdani Art Foundation:
Level 5, Suite 501 & 502
Shanta Western Tower,
186 Gulshan – Tejgaon Link Road,
Tejgaon I/A, Dhaka-1208, Bangladesh.
info@samdani.com.bd
Tel: +8802 8878784-7
Fax: +8802 887 8204
Facebook Page: www.facebook.com/SamdaniArtFoundation/
Published Date: 20/04/2014
Related Sites: