Uttara University (UU) is a Government & University Grants Commission (UGC) approved private university located at Uttara in Dhaka, Bangladesh. The university was established in 2003 by a number of educationists, economists and businessmen under the private University Act of 1992 (amended in 1998).
Dr. M. Azizur Rahman, its current Vice-Chancellor and the former Economic Advisor of the US Embassy of Dhaka, is one of the founders of Uttara University. In addition, Prof Dr. Eaysmin Ara Lekha, the Pro Vice-Chancellor of UU, is also a founder of Uttara University.
At present, Uttara University includes 14 departments and offering 34+ graduate & under graduate programs. UU is the only university in offering the Master of Physical Education (M.P.Ed.) program in the country. The university has collaboration with the University of Worcester and the University of Bedfordshire, UK. The mission of UU is "Quality Education at Affordable cost." Today Uttara University has 8000+ students.
Uttara University's 1st convocation was held on 16 June 2009, the 2nd convocation held on 4 July 2011, and the 3rd has held on November 19, 2014 at Bangabandhu International Conference Center (BICC).
Uttara University is offering following Undergraduate Programs:
- Bachelor of Business Administration (BBA)
- LL.B Honours (4 Years)
- LL.B (2 Years)
- B.Sc. in Electrical and Electronic Engineering (B.Sc. in EEE)
- B. Sc in Civil Engineering
- BA (Hons) in Fashion Design
- BA (Hons) in Apparel Management and Merchandising
- B.Sc. (Eng.) in Computer Science & Engineering
- BA (Hons) in English
- Bachelor of Education
- Bachelor of Physical Education
- BA (Hons) in Islamic Studies
- BA (Hons) in Bengali
- B. Sc in Mathematics
- B. Sc in Environmental Studies
UU is offering following Graduate Programs:
- Master of Business Administration (MBA)
- Executive Master of Business Administration (Executive MBA)
- LL.M (1 Year)
- LL.M (2 Years)
- MBA in Apparel Merchandising and Fashion Management
- M.Sc. in Computer Science & Engineering
- M.A. (Preliminary) in English
- M.A. (Final) in English
- Master of Education
- Master of Physical Education
- M.A. (Preliminary) in Islamic Studies
- M.A. (Final) in Islamic Studies
- M.A. (Preliminary) in Bengali
- M.A. (Final) in Bengali
- Masters of Science in Physics
- Master of Science in Mathematics
- Master of Science in Mathematics (2 Years)
- M.Sc. in Environmental Studies
Contact Info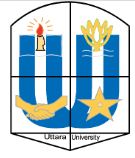 Uttara University (UU):
House-4 & 6, Road-15, Sector-6, Uttara Model Town,
Uttara, Dhaka-1230
Phone: 8919794, 8919116, 8912280
Mobile: 01781-635200, 01782-388118
Fax: 88-02-8918047
E-mail: info@uttarauniversity.edu.bd, uumain_edu@yahoo.com
Website: www.uttarauniversity.edu.bd
Published Date: 19/11/2014
Related Sites: