BGC Trust University Bangladesh
BGC Trust University Bangladesh (BGCTUB) is a Ministry of Education, Government of Bangladesh, and University Grand Commission (UGC) approved private university in Bangladesh. BGC Trust University was established in 2002 by Engineer Afsar Uddin Ahmad, a philanthropist, educationist and politician associated with Bangladesh Awami League.
The main campus of BGC (Begum Gulchemonara) Trust University is located at the heart of Chandanaish, Chittagong (just 34 km away from Chittagong city). Apart from the university, the main campus also includes a Govt. approved private medical college known as 'BGC Trust Medical College', established in the year 2002. Besides the main campus, BGC has city campus situated at Bayazid Bostami in Chittagong, Bangladesh.
The Programs offered by BGC Trust University:
- Bachelor of Business Administration (BBA)
- Master of Business Administration (MBA)
- B Sc (Hons.) in Computer Science and Engineering (CSE)
- Master of Computer Science and Engineering (MSCE)
- B. Pharm. (Hons.)
- Masters of Pharmacy (M Pharm)
- Bachelor of Law (LLB) (4-year)
- Bachelor of Law (LL B) (2-year)
- Master of Law (LLM) (1 year)
- BA (Hons.) in English
- MA in English
Contact Info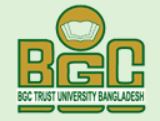 Main Campus of BGC Trust University:
"BGC Biddyanagar" Chandanaish
Chittagong, Bangladesh
Tel: 03033-56193
Cell: 01755588627 - 628
Fax: +880-31-2550224
Email: info@bgctub-edu.com, info-bgctub@bgctrustbd.org
City Campus of BGC Trust University:
BGC Biddyaniketon
74/81, Nasirabad, Bayazid Bostami Road
Chittagong, Bangladesh
Tel: 031-2584464
Cell: 01755588619
Website: www.bgctub-edu.net
Published Date: 20/11/2014
Related Sites: