Marine Academy Bangladesh (BMA)
Marine Academy Bangladesh (BMA), also known as Bangladesh Marine Academy Chittagong, Mercantile Marine Academy Chittagong, and Chittagong Marine Academy, is a Government institution involved in developing world-class maritime leaders for the maritime sector. BMA was established in 1962 and situated in Chittagong. It is the only institution of its kind in Bangladesh. Since 1990, Bangladesh Marine Academy is a branch of World Maritime University, Sweden. In 2000, Bangladesh was placed in the White List of International Maritime Organization (IMO). It has affiliation with the Ministry of Shipping, Government of the People's Republic of Bangladesh, and National University (NU), Bangladesh.
Bangladesh Marine Academy Chittagong provides world-class theoretical and practical training to the cadets, deck officers and marine engineers to create prudent and polite marine manpower for the national and international fleet. The Institution is governed by a body headed by the Secretary, Ministry of Shipping, along with nine other members drawn from government, autonomous and private organization.
* To obtain detailed Programs, Courses & Curriculums information please – Click here…
* To obtain Admission Recruitment & Application information please – Click here…
Contact Info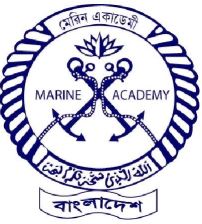 Bangladesh Marine Academy, Chittagong:
Chittagong-4206, Bangladesh.
Phone: +88 031 2514151-6
Fax: +88 031 2514160
Website: www.macademy.gov.bd
Published Date: 18/08/2014
Related Sites: