Swapon's World is one of the popular fashion (Clothing) brands in Bangladesh. The fashion brand was founded in 2016. Swapon's World offers Clothing products (such as Punjabi, Denim, Jaket, T-Shirts, Polo Shirts, Pants, Trouser, Casual Shirts, Formal Shirts, Sharee, Kamij, Kid's Accessories, etc.) for Men, Women and Kids; and also offers Home Decor products (Such as Bed Sheets, Mug, and Pillow Cover).
It delivers clothing products and home decor products through its own three (03) outlets located in Dhaka, Sylhet and Dinajpur and online platform at Swaponsworld.com.bd. Swapon's World brings special fashion products in different occasions. Furthermore, the fashion brand delivers Matching Dress like Couple Dress, Family Dress, and Baap-Beta.
It takes order at online platform and delivers respective ordered products nationwide; and allows customers to pay through bKash, Nagad, and SSLCOMMERZ Payment Gateway. Swapon's World delivers ordered products inside Dhaka within 3-4 working days, outside Dhaka within 5-6 working days; takes Delivery fee 70 Taka inside Dhaka, and outside Dhaka TK 150.
Outlets of Swapon's World:
Dhaka Outlet:
Address: 144, Senpara, Parbata, Mirpur-10
(Just opposite to Al-Helal Hospital)
Phone: 09610-000383/01991000383
Sylhet Outlet:
Address: 34 (Ground Floor), Block- A, House-42,
Kumarpara Road, Sylhet
Phone: 01810024502
Dinajpurt Outlet:
Address: Al-Amin Tower, Nimlota, Dinajpur
Phone: 01810024506
Contact Info: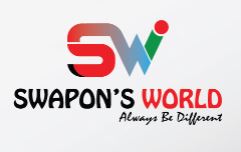 SWAPON'S WORLD:
144 Senpara Parbata, 1st Floor, Begum Rokeya Sarani Ave,
Mirpur-10, (Just opposite to Al-Helal Hospital) Dhaka-1216, Bangladesh
Phone: 09610-000383, 01991000383
Email: support@swaponsworld.com
Website: www.swaponsworld.com.bd
Facebook Page: www.facebook.com/swaponsworld
Published Date: 12/09/2023
Related Sites: