Bangladesh Paediatric Association (BPA)
Bangladesh Paediatric Association (BPA), in Bangla known as Bangladesh Shishu Shikitshok Samiti, was established in 1972 as the prime organization of the pediatricians of Bangladesh. Since its formation, Bangladesh Shishu Shikitshok Samiti has been working for the well-being of the children and pediatricians of Bangladesh. Its founder President was Prof. Dr. M.R. Khan.
Bangladesh Paediatric Association is accredited by many international organizations such as WHO, Icddr,b, UNICEF, Save the Children, USAID etc. The Association organizes conference, workshop, roundtable discussion regarding Pediatrics and other Child Health related matter. It also participates in international conferences, and workshops connected to its arena. BPA publishes a Journal titled "Bangladesh Journal of Child Health (BJCH)", the Journal published every four months.
The Key Activities of Bangladesh Paediatric Association (BPA):
- Ensure child health care availability at all levels
- Ensure services for newly born baby
- Conduct training program for children health & baby care
- Work with the Bangladesh Government in the policy making issues of child health
- Encourage research about the Paediatric Science
- Take awareness program for the guardian and people about children's health and baby's proper care
- Ensure Children's Rights
- Take steps for higher training for the Physician connected to Paediatrics and Child Health
- Maintain close relation with the Ministries for the promotion of Child Health
- And more...
Contact Info: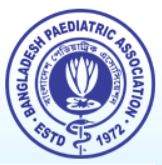 Prof. Mohammod Shahidullah:
Secretary General
Bangladesh Paediatric Association (BPA)
&
Pro-Vice Chancellor, BSMMU
Room - 116, Block – B, 1st floor
BSMMU, Shahbag, Dhaka -1000
Mob: +8801713003110
E-mail: shahidullahdr@gmail.com
Website: www.bpabd.org
Published Date: 01/08/2014
Related Sites: