Canadian International School, Bangladesh (CISB)
Established in 2005, Canadian International School Bangladesh, also known as CIS, or CISB, is a comprehensive, co-educational English medium school located at Gulshan in Dhaka, Bangladesh. CIS Bangladesh is offering Canadian curriculum education program to over 19 different nationalities students in Bangladesh. CIS is a member of the Dhaka International School Association (DISA). It also has collaboration with the Association of International Schools of India (TAISI) to provide interschool sports activities and professional development opportunities for teachers.
Canadian International School (CIS) Bangladesh uses Canada curriculum (Ontario) teaching strategies, textbooks and classroom resources. Its high school programs are conducted as far curriculum of Manitoba, Canada. The School has possessed certified and experienced teachers.
Students of Canadian International School, Dhaka, Bangladesh will be eligible to apply for enrolment at world's leading Universities in The European Union, North America, the UK, Australia, and New Zealand, etc. and universities in Bangladesh as well. CIS students will also be able to get a full transfer to any public school in Canada, and in the USA.
Currently Canadian International School, Bangladesh (CISB) offers:
Pre – School:
* Early Childhood (EC1) – 2-year of age
* Early Childhood (EC2) – 3-year of age
* Junior Kindergarten (JK) – 4-year of age
* Kindergarten (KG) – 5-year of age
* Note: Admission to these programs is based on birth years
* Elementary School: Grades 1 - 8
* High School: Grades 9 - 10
* Grades 11 and 12 are presently in planning and discussion stages
Contact Info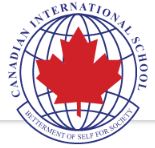 Canadian International School
200 Gulshan Avenue North,
Gulshan-2, Dhaka-1212, Bangladesh
E-mail : info@canadaeducationbd.com
Tel : 9840306
Hot line: 01841461000
Fax : 9881231
Website: www.canadaeducationbd.com
Published Date: 17/01/2015
Related Sites: