Dhaka International Schools Association (DISA)
Dhaka International Schools Association (DISA) is an organization of some reputed private independent schools in Dhaka, Bangladesh. DISA was born on May 17, 2001 aimed to – share ideas & resources about educational issues; promote friendship & professional growth; promotes social, cultural and sporting activities; advance student participation in international affairs etc among the members.
DISA's member schools have a number of common features as – the member schools offer early to secondary level programs; medium of instruction is mainly English; the Schools provide international standards of education by following North American System, UK Education System, Australian System etc; in addition to honoring Bangladesh's culture they also promote multi-cultural awareness; takes students and teachers from diverse background; and governing body of these Schools is independent.
List of Members of Dhaka International Schools Association (DISA):
* American International School Dhaka (AISD)
* Aga Khan School
* Australian International School
* Chittagong Grammar School (CGS)
* Canadian International School (CIS)
* Grace International School
* International School Dhaka
* Pledge Harbor Sport Academy
* Regent College
* Sir John Wilson School
* Scholastica School
* The City School
Contact Info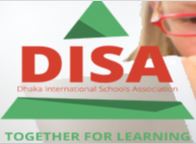 Dhaka International School of Associations (DISA):
Regent College
Gulshan 2, Dhaka, Bangladesh
Email: contact@disa-bd.com
Website: www.disa-bd.com
Published Date: 19/01/2015
Related Sites: