Varendra University is the first Govt. & UGC approved private university in North Bengal. The University is located in Rajshahi, Bangladesh. It was founded in 2012 by the initiative of Mr. Hafizur Rahaman Khan, Chairman of Varendra University Trust. Varendra University began its academic journey in September 2012. It has a library consisting of more than 7,000 textbooks, magazines, journals, research papers and educational resources. At present, Professor Dr. M. Osman Gani Talukder is the Vice Chancellor and Dr. Nurul H. Choudhury is Pro Vice Chancellor of Varendra University.
Varendra University has the following Faculties:
- Faculty of Engineering
- Faculty of Science
- Faculty of Humanities
- Faculty of Business and Law
- Faculty of Economics
- Faculty of Social Science
It has following Departments:
- Department of Business Administration
- Department of English
- Department of Law
- Department of Computer Science & Engineering
- Department of Electrical & Electronic Engineering
- Department of Pharmacy
- Department of Sociology
- Department of Economics
The University offers several undergraduate programs as stated below:
* B.Sc. in Computer Science and Engineering (CSE)
* B.Sc. in Electrical and Electronic Engineering (EEE)
* Bachelor of Pharmacy (B.Pharm.)
* Bachelor of Business Administration (BBA)
* Bachelor of Law (LLB Hons)
* LLB (2-Year)
* BA Honors in English
* BSS Honors in Economics
* BSS Honors in Sociology
* B Sc Honors in Applied Statistics
* BSS Honors in Journalism, Communication & Media
* BSS Honors in Political Science
* Islamic History & Culture
Varendra University also offers several graduate programs as stated below:
* Master of Business Administration (MBA)
* Master of Business Administration (MBA) (Regular)
* Evening Master of Business Administration (EMBA)
* MA in English
* LLM (Final)
* Masters in Public Health
* MSS in Sociology
* MSS in Political Science
Admission Requirement:
* Minimum GPA 2.50 in SSC & HSC or Equivalent from any Groups/Disciplines
* GPA 5.0 in both SSC & HSC are eligible for direct admission
* Other Candidates will be selected on the basis of admission test performance & academic records
Campus Location: Building-01, 529/1, Kazla, Motihar; and Building-02, 532, Jahangir Sarani, Talaimari, Rajshahi.
References:
* Website of Varendra University
*Professorís Current Appears (December 2014)
Contact Info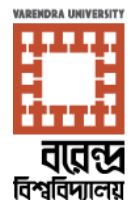 Varendra University:
Kazla, Motihar, Rajshahi-6204
E-mail: info@vu.edu.bd
Telephone: 0721-751274, 0721-751459
Mobile: 0173-0406501-4
Fax: 880721-750748
Website: www.vu.edu.bd
Published Date: 16/12/2014
Related Sites: