Green University of Bangladesh (GUB), mostly known as Green University, is a Govt. & UGC approved private university situated in Dhaka, Bangladesh. GUB is an initiative of US-Bangla Group. It was established in the year 2003 under the Private University Act 1992. The University received ISO 9001:2008 Certification for Quality Education. Green University is a center for higher education which is offering graduate and post-graduate courses related to the fields of Business Studies, Science & Engineering, Social Sciences, Textile Technology, Arts, Law, and Media. Professor Dr. Md. Golam Samdani Fakir is the current Vice-Chancellor of GUB.
Green University of Bangladesh paid out 9 Crore Taka for Scholarship and Waiver purposes in 2014. In 2015, it has offered 10 Crore Taka in its Scholarship and Waiver fund. Qualified students can take advantage of this scholarship and waiver facilities.
The University has collaboration with the University of Huddersfield, University of Regina, Wuhan Textile University, and Beijing Language & Cultural University (BLCU). Green University is also member of – Association of Universities of Asia and the Pacific (AUAP), Association of Private Universities of Bangladesh (APUB), and International Association of University Presidents (IAUP).
The First Convocation of Green University was held on February 16, 2012 at Bangabandhu International Conference Center (BICC), Dhaka.
Following are the Under Graduates and Masters Programs Offered by GUB :
- Bachelor of Business Administration (BBA)
- Master of Business Administration (MBA) (Regular & Executive)
- B.Sc in Electrical and Electrical Engineering (EEE)
- B.Sc in Computer Science and Engineering (CSE)
- B.Sc in Textile Engineering (BSTE)
- BA (Hon's) in Film, Television & Digital Media (FTDM)
- BA (Hon's) in English
- Bachelor of Law (Hon's)
- Bachelor of Law (Pass)
- Master of Law (LLM)
- BSS (Hon's) in Sociology
- BSS (Hon's) in Anthropology
- MSS in Anthropology
Admission Requirement:
* Candidates will have to sit for written exam and face interview for taking admission at GUB. The Written Test contains multiple-choice questions (MCQs) covering following sections – English language, mathematics, and logical reasoning.
* Candidates having a combined GPA 7.00 & above in SSC/Equivalent & HSC/Equivalent can take admission without test but may face interview.
References:
* Website of GUB
* Admission Advertisements
Contact Info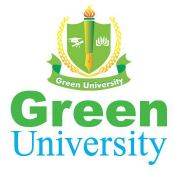 Green University of Bangladesh:
220/D, Begum Rokeya Sarani,
Dhaka -1207, Bangladesh.
Phone: 9014725, 8031031 8060116.
Cell: 1757074304, 01757074302, 01757074303, 01757074301, 01191758792, 01730713840, 01673197026
E-mail: admission@green.edu.bd
USA Information Office:
Bangladesh Plaza, 37-15, 73ST, Suite#202, Jackson Heights, NY-11372, U.S.A
Cell: 347-822-6170
Facebook Page: www.facebook.com/greenuniversitybd
Published Date: 21/12/2014
Related Sites: