Imdad-Sitara Khan Kidney Centre (ISKKC)
Imdad-Sitara Khan Kidney Centre (ISKKC) is providing health care facilities to the kidney patients of Bangladesh, particularly to those patients who have lack of afford for kidney treatment. ISKKC BD started its operating in 2006. It is engaged in humanitarian activities; mainly providing dialysis facility to thousands of kidney patients in Bangladesh.
ISKKC is an initiative of Imdad-Sitara Khan Foundation (ISKF), Bangladesh; registered with the Registrar of Joint Stock Companies & Firms, Government of Bangladesh, under the societies Registration Act, XXI of 1860. ISKF is a branch of the Khan Family Foundation (KFF), a USA-based nonprofit organization founded by expatriate Bangladeshi Dr. Imdad H. Khan and his wife Mrs. Sitara Khan. KFF is immensely funding to establish kidney centers in every district-town of Bangladesh.
At present, ISKKC's nine (9) kidney dialysis centers are located in – Mohammadpur, Dhaka; Rajpara, Rajshahi; Silimpur, Bogra; Peara Tala, Kushtia; Phulbari, Dinajpur; Moulvibazar, Sylhet; East Nasirabad, Chittagong; Nazirapool, Barisal; and Sonadanga, Khulna.
Contact Info: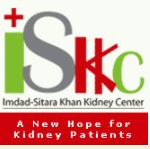 Executive Director's Office:
19/7, Babar Road (GF), Mohammadpur, Dhaka-1207
Tel: +880-2-9356841
E-mail: info@iskkc.org
Managing Director's Office:
3351 Tracy Drive
Santa Clara, CA 95051, USA
Phone: 408-241-3544
Website: www.iskkc.org
Published Date: 04/10/2014
Related Sites: