National Tubes Limited (NTL)
National Tubes Limited (NTL) is an associate company of Bangladesh Steel and Engineering Corporation (BSEC) under the Ministry of Industries, Government of Bangladesh (GoB). NTL is the only state-owned steel pipe manufacturing company in Bangladesh which was nationalized in 1972 after its establishment in 1964 as a private company. It produces international-standard API Pipe, ASTM A-53 B Grade Pipe, 40 Schedule Pipe, Marine Grade Pipe, MS Pipe, and GI Pipe. NTL has capacity to produce 10,000 (Apx) Metric Tons of API/MS & GI pipes per year.
National Tubes Limited of Bangladesh achieved API license (License No: 5L - 0025), API Q1 Certificate (API Spec Registration No: Q1 - 0051), ISO 9001:2015 Certificate (ISO 9001 Registration No: 0321), Bureau Veritas Certificate (Type Approval) Certificate no: 47382/A0BV, BSTI license (No: 138), ACCORD Approval, and ALLIANCE Approval.
NTL has earned profit TK 91.27 crore as of March 2019-2020. Besides, the company has paid TK 7.1 crore as VAT and Tax to Government treasury.
Contact Info: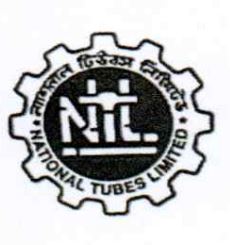 National Tubes Limited (NTL):
131-142 Tongi Industrial Area, Tongi,
Gazipur-1710, Bangladesh
Telephone: +88029802303, +88029802737, +88029812782, +88029810134
Fax: +88029802756
Email: ntl.bsec.bd@gmail.com
Website: www.ntl.gov.com
Published Date: 09/05/2020
Related Sites: