The University of Dhaka, also called Dhaka University or DU, is the oldest as well as topmost public university in Bangladesh. This is the most prestigious university in Bangladesh. The University was established by the British Imperial Government on the 1st July 1921. The date, 1st July, is observed as the Dhaka University Day. Because of its immense contribution early to the modern history of Bangladesh, the University is called as the "Oxford of the East." Since its inception, Dhaka University has been playing a vital role in the history of Bangladesh. Its contribution during the time of the "Language Movement in 1952" and the "Independence of Bangladesh in 1971" is immensely remembered.
Currently, the University consists of 13 faculties with 70 departments which are offering undergraduate, graduate, M.Phil, Ph.D etc programs. In addition, it has 10 Institutes, and 38 Research Centers. The numbers of students are above 33,112 and teachers have risen to above 1,805. Moreover, Dhaka University has 17 dormitories (Halls of Residence) for students. More than 842 Ph.D and 673 M.Phil researchers have obtained their degrees from Dhaka University. The University gave the Doctor of Literature (DLit) Degree to Rabindranath Tagore in 1936 and to Kazi Nazrul Islam in 1974.
The University of Dhaka is progressively aspiring to combine the quest of knowledge and truth with the values and needs of a developing society. The Motto of Dhaka University is "Truth Will Prevail." Sir P.J. Hartog was the first Vice-Chancellor of Dhaka University. At current, Professor Dr. Mohammad Akhtaruzzaman is the Vice-Chancellor of Dhaka University.
List of Honourable Vice-Chancellors of University of Dhaka:
1. Sir. P. J. Hartog (1.12.1920-31.12.1925)
2. Professor G. H. Langley (1.1.1926-30.6.1934)
3. Sir. A. F. Rahman (1.7.1934-31.12.1936)
4. Dr. R. C. Majumder (1.1.1937-30.6.1942)
5. Dr. Mahmud Hasan (1.7.1942-21.10.1948)
6. Dr. S. M. Hossain (22.10.1948-8.11.1953)
7. Dr. W. A. Jenkins (9.11.1953-8.11.1956)
8. Justice Muhammad Ibrahim (9.11.1956-27.10.1958)
9. Justice Hamoodur Rahman (5.11.1958-14.12.1960)
10. Dr. Mahmud Husain (15.12.1960-19.2.1963)
11. Dr. Md. Osman Ghani (20.2.1963-1.12.1969)
12. Justice Abu SyedChaudhury (2.12.1969-20.1.1972)
13. Dr. Muzaffar Ahmed Chaudhury (21.1.1972-12.4.1973)
14. Dr. Abdul Matin Chaudhury (13.4.1973-22.9.1975)
15. Professor Muhammad Shamsul Huq (23.9.1975-1.2.1976)
16. Dr. Fazlul Halim Chowdhury (2.2.1976-20.3.1983)
17. Dr. A. K. M. Siddiq (21.3.1983-16.8.1983)
18. Dr. Md. Shamsul Huq (17.8.1983-12.1.1986)
19. Professor Abdul Mannan (12.1.1986-22.3.1990)
20. Professor M. Maniruzzaman Miah (24.3.1990-31.10.1992)
21. Professor Emajuddin Ahamed (1.11.1992-31.8.1996)
22. Professor Shahid Uddin Ahmad (31.8.1996-29.9.1996)
23. Professor A. K. Azad Chowdhury (30.9.1996-12.11.2001)
24. Professor Anwarullah Chowdhury (12.11.2001-31.7.2002)
25. Professor Dr. A.F. M. Yusuf Haider (01.08, 2002 - 23.09.2002)
26. Professor S. M. A. Faiz (23.09.2002-16.01.2009)
27. Professor A A M S Arefin Siddique (17.01.2009- 08.08.2017)
28. Professor Dr. Mohammad Akhtaruzzaman (08.08.2017 – Present)
Contact Info: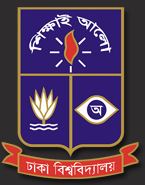 University of Dhaka
Nilkhet Rd, Dhaka 1000, Bangladesh
Phone: (880)-2-8614150
Fax: (880)-2-8615583
Email: registrar@du.ac.bd, vcoffice@du.ac.bd Website:
www.du.ac.bd
www.univdhaka.edu
Published Date: 01/12/2013
Related Sites: