European University of Bangladesh (EUB)
European University of Bangladesh (EUB) was founded in May 2012 (under the Private University Act, 1992) as a private university in Bangladesh approved by University Grants Commission (UGC) and Govt. of the People's Republic of Bangladesh. The permanent campus of EUB is situated at 2/4, Gabtoli, Mirpur, Dhaka. Presently, the university has three faculties; offers twenty five graduate and undergraduate programs. EUB started its journey in 2012 with only 74 students; currently it possesses 24000+ students and 480+ teaching staffs. The university admits students under three admission session - Spring Session (January - April), Summer Session (May - August) and Fall Session (September - December). The motto of EUB is "We Shape your Dream".
European University of Bangladesh (EUB) is run by a 'Board of Trustees'. The Chairman of the trustee board is Dr. Muhiuddin Khan Alamgir, former Home Minister of Bangladesh Government and notable politician aligned with Bangladesh Awami League; and Vice Chairman is Professor Dr. Mokbul Ahmed Khan. Professor Engr. Md. Alim Dad is the Vice Chancellor of European University of Bangladesh.
Faculties of European University of Bangladesh (EUB):
* Faculty of Arts and Social Science
* Faculty of Business Administration & Industrial Management
* Faculty of Science & Engineering
European University of Bangladesh (EUB) has following Departments:
* Department of Engineering
* Department of Business Administration & Industrial Management
* Department of English
* Department of Law
* Department of Tourism & Hospitality Management
* Department of Economics
Programs offered by European University of Bangladesh (EUB):
* B.Sc. in Textile Engineering (Regular)
* B.Sc. in Textile Engineering (Diploma Holders)
* B.Sc. in Electrical and Electronic Engineering (EEE) (Regular)
* B.Sc. in Electrical and Electronic Engineering (for Diploma Holders)
* B.Sc. in Civil Engineering (Regular)
* B.Sc. in Civil Engineering (for Diploma Holders)
* B.Sc. in Computer Science and Engineering (CSE) (Regular)
* B.Sc. in Computer Science and Engineering (CSE) (for Diploma Holders)
* B.Sc. in Industrial Production Engineering (IPE) (Regular)
* B.Sc. in Industrial Production Engineering (IPE) (for Diploma Holders)
* Bachelor of Business Administration (BBA) (4 Years)
* Master of Business Administration (Regular/2 Years)
* Master of Business Administration (BBA Graduate)
* Executive Master of Business Administration (EMBA)
* Master of Governance and Development Studies (MGDS)
* BA (Honors) in English
* MA in English (Preliminary/2 Years)
* MA in English (Final/1 Year)
* Bachelor of Laws (LL.B) (Hons.) (4 Years)
* Bachelor of Laws (LL.B) (Pass/2 Years)
* Master of Laws (Preliminary/2 Years)
* Master of Laws (Final/1 Year)
* Bachelor of Tourism & Hospitality Management (BTHM)
* B.A (Honors) in Economics (4 Years)
* M.A in Economics (2 Years)
Contact Info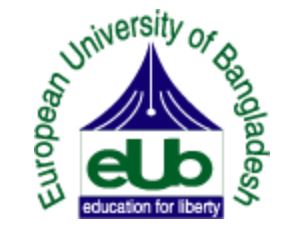 European University of Bangladesh (EUB):
Permanent Campus:
2/4, Gabtoli, Mirpur,
Dhaka-1216, Bangladesh
Phone: 01992887317, 01968774933, 01968774931, 01968774927 (Director), 01968774930, 01624818048
Email: info@eub.edu.bd
Website: www.eub.edu.bd
For Online Admission: www.eub.edu.bd/apply-online-admission
Facebook Page: www.facebook.com/europeanuniversitybangladesh/
Published Date: 05/08/2023
Related Sites: