Bangla Academy is the national academy of Bangladesh established mainly for the advancement of Bangla Language. The Academy was established on the 3rd December, 1955. It is located at the Burdwan House in Dhaka. Currently, the Institute not only promotes Bangla Language but it also dedicated to the progression of Bengali culture and history. In addition, Bangla Academy publishes Bengali bookish and research work. Apparently, the Institute has been playing a significant role in the development and modernization of Bangla Language. At present, the Library of Bangla Academy keeps more than 1,20,000 books and 70,000 papers and magazines.
At current, Bangla Academy has following four departments:
(1) Research, Compilation and Phokalor Department
(2) Language, Literature, Culture and Magazine Department
(3) Textbook Department
(4) Organization, Planning and Training Department

Dr. Muhammad Enamul Haque was the first director of the Bengali Academy appointed on the 1st December 1956. After the independence of Bangladesh in 1971, Bangladesh Govt. appointed Dr. Mazharula Islam, Professor of Rajshahi University at Bangla Department, as the 1st Director General of the Academy. Presently, Mr. Habibullah Shirajee is the Director General of Bangla Academy.
Since 1960, Bangla Academy has been giving the Bangla Academy Award for the contribution to Bangla language. The Academy organizes month-long Ekushey Book Fair, the largest book fair in Bangladesh, in the month of February to commemorate the Bangla Language movement held in 1952 and the Language martyr's day.
Contact Info: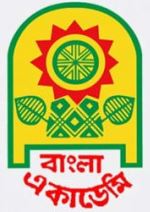 The Bangla Academy
Dhaka - 1000, Bangladesh
Telephone: +88-02-58611215, +88-02-58611216, +88-02-58611107
Fax: +88-02-9661080, +88-02-9661080, +88-02-9661080
Email: dgbanglaacademy@gmail.com
Website: www.banglaacademy.org.bd
Website: www.banglaacademy.gov.bd
Published Date: 11/12/2013
Related Sites: